Welcome!
What you will learn on this page:
Bridging the Gap - an alternative course
Are you struggling to fit into mainstream education?
Then take a different approach to learning
Bridging the Gap is an alternative education course that embraces and encourages individuality. We believe in experiential education - learning for life through experience. A wide range of practical, artistic and academic activities are offered, from creative writing to drumming, from cooking to construction - you'll enjoy hands on learning with a different challenge everyday.
Who is it for?
It's for young people aged 16-19* years old who want variety, challenge and a hands-on learning experience. Bridging the Gap is a one or two year funded course, for up to 16 young people.
Students join us from all over the world so it is an eclectic group of individuals from varying backgrounds. Some young people have been home-schooled, some have had issues in mainstream education, some missed out on education for other reasons and some just fancied something completely different!
(*under 19 on 31st Aug 2013 for entrance this year. Learners with a specific difficulty are funded to the age of 24)
Where is it based?
We are based in the centre of Stroud, Gloucestershire and hold indoor projects in a beautiful Victorian building, the Centre for Science and Art with outdoor projects taking place at Hawkwood College, a mile for the centre of Stroud. If you are thinking of studying with us from further afield, we have local host families who can provide affordable accommodation.
How much does it cost?
It's FREE! If you are between 16 and 19 your training is funded by the Eductional Funding Agency.
We ask for a voluntary contribution towards the cost of materials and food (we cook and eat together when outdoors). The cost is approx £600 a year, but this should not be deterent to your joining the course.
Get paid to train
Low income? If your family are in receipt of income support or disability living allowance or if you have lived/are living in care, we can help you access the 16-19 Bursary Fund providing up to £1200 a year to pay for course costs, transport or food.
Got a child? We can help you access £160 a week towards childcare costs to enable you to train.
Living in another part of the UK? You may be eligible for the Residential Support Scheme. Depending on your household income you could claim between £1,152 and £3,458 a year to help with local accommodation.
Experiential Learning for Life
This is a full-time experiential course with creative arts, practical crafts and science. Students participate in co-creating the culture and ethos of the course by taking responsibility for their work, behaviour and ensuring its smooth running. Bridging the Gap is a team effort with tutors and students working together.
Bridging the Gap uses learning processes that allow young people go onto more depth to understand the world we live in. We learn by observation and directly experiencing by doing; by reflecting on the activity through writing in our own words and through art we deepen our understanding and transform ourselves.
Qualifications
Each project will be written up and documented in photos and drawings for the portfolio of work and the accreditation process. The course is accredited at Level 2 for the one year course leading students to achieve:
BTEC Level 2 Certificate in Learning for Life
APT Level 2 Diploma in Progression
If you don't have GCSE Maths or English at grade C or above, you will also work towards achieving:
Level 2 Functional Skills in Maths
Level 2 Functional Skills in English
and that's without having to sit in a Maths or an English class to achieve it! You will be learning through doing, experiencing and applying Maths and English in real life situations.
An outdoor project: Tree Felling & Construction
Gallery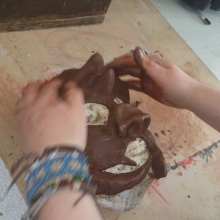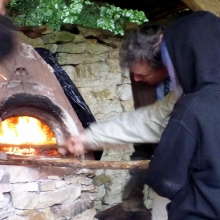 Contact Us